Vagabund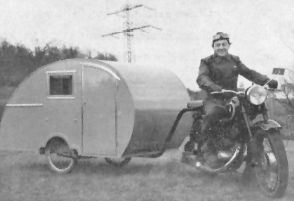 YES! YES! Sometimes it's gratifying to know that one of your crazy ideas has been done. Makes you feel less crazy. Well, it looks like someone in Germany built a Teardrop Camper specifically to be hauled by a motorcycle, oh I'd say at least 60 years ago. At 58 kg (almost 128 lbs) I think even a 30 year old 150cc scooter would be able to haul it semi-respectably.
I knew somewhere, sometime someone had to have made one... Now if I can only get the plans...
(Insert Evil Genius Laugh)
Well, I've just copied and pasted the whole messy babelfish translation of this German page, as halfway legible fodder for feverish scooter dreams...
The dream the motorradfahrers as well as the owner of small car is it already for a long time to live the vacation or the weekend with a camper in wonderful nature. This dream is by the "vagabond", who becomes "smallest camper of the world", now reality.

Where you also come, everywhere the "vagabond" accompanies you. As soon as you lived your weekend or your vacation with the camping car, you would like on this cars with its many advantages any longer do not do without. It is a travel to the sea, in the mountains or to other beautiful pi-corrodes, always feels you like at home. By this life in wonderful nature you keep to health and joy of life. And as this recovery is cheap, particularly since you are dependent on no hotel room or hotel. At the desired location, particularly on the camping sites, table and stools are constructed and already are you in the Ferienparadies in few minutes sun oh as well as.

They do not have it necessarily, to unpack as an owner of tent only everything and/or pack up a wet tent, while it pours possibly still; in the "vagabond" each thing has its place. In the evening you switch the electrical interior lighting and can read, so for a long time it for you on please. And you want to make smaller travels into the environment, let you go away for the locked car on the camping site and to drive calmly.

The car is largely enough, in order to give to 2 persons a sleep possibility. The "vagabond" was tested dealing with several large travels with a DKW blank 200. It was again and again a benefit of visiting a new area and always of finding the car wohnlich. The cabinet in the car offers place enough, in order to carry all table-ware as well as gasoline digester; fast then a meal is prepared and the table covered and the meal tastes as with nuts/mothers. If it weekdaya load trailer need, can be dismounted the body "vagabond" by release fewer screws and a box for load transport be developed, so that the car can serve also as general-purpose vehicle. In all other respects the trailer for motorcycle, for small cars is taxfree amounts to the control item in the year DM 18, -.

Technical data:

Unloaded weight of the car: 58 kg. Tyre: 20 x 2,25. Car mass without pole (body mass): Length: 2.20 m, width: 1.20 m, height: 1.38 m.
Chassis is provided with drehstabfederung, whereby calm driving is ensured. Body consists all edges of water resistantly glued plywood (4 mm), is strengthened by light alloy angles. Door and windows are set in of polished cover strips with Alum., in addition Laengszierstaebe with filler.

In the basic price are einbegriffen:

Interior equipment: Wandschrank, baggage net, electrical interior lighting, clothes hook, ashtray.
Other equipment: Back lighting after regulation, door safety lock, number sign and triangle reflector, kugelkupplung with safety quick-locking mechanism, tyre kpl. 20 x of 2.25, 2 stands.

In addition can be supplied against special computation:

2 luftmatratzen, 1 folding table with attachment eyes, 2 folding stools, 1 sun oh with supports, 1 gasoline compressed gas burner, 1 wind protection in addition, 1 cook boiler set, 1 picknick suit-case with contents for 2 persons.
Special thanks go out to Angib at the
Teardrops & Tiny Travel Trailers Forum.