So for the past few weeks I have been working at what has to be one of my dream-jobs. That's right, I'm working at a Vespa dealership!
Vespa Ridgefield and Branchville Motors
, which are two faces of the same Janus-like business, is where I'm spending my mornings. In addition to Vespas, we sell Triumphs and Moto-Guzzis, as well as the best selection of high-quality riding gear I've ever seen under one roof.
For now it's only part-time, but I'm really enjoying it, to say the least. It's a small locally owned dealership that is located within two cool old structures. The Vespas, Piaggio scooters, and gear are in an old wooden building, which was a house in it's original incarnation, and a specialty gun dealer prior to housing sweet Italian two-wheelers. The motorcycles and service area are in an awesome old stone building that looks like it was purpose built as a garage back in, well back whenever they first started building garages. The owner, Alex, has been selling vehicles here for some time, and the basement has all the parts you'd expect for the marques we carry, as well as a smattering of Royal Enfield, BMW, Indian, and even Whizzer parts!
Look at that, that's what I look at every day when I get to work!
(Sigh.)
We have a small crew down at the shop, and I'm really starting to like and respect these guys. After my last corporate job (which was so horrid, I don't think I ever mentioned it on this blog) it is so nice to go to work and associate with people who really care about what they are doing.
Jim, the guy I work with the most, has been selling bikes for over twenty years, and riding and racing longer than that. He is an amazing resource of knowledge, as well as having the best collection of cowboy boots, this side of the Mississippi.
Boy, look at that GTV... such a pretty scoot.
Don't get me wrong though... I'm certainly not drooling over over scooters all day. I'm drooling over Bonnevilles and Thruxtons. Seriously though, it is an interesting atmosphere to work in. Our customers tend to be very serious riders, not content with the view that Harleys are the end-all-be-all of the two-wheeler world, and not looking for the latest Japanese racing Sui-cycle. I'm beginning to understand why many Vespisti later go on to Bonnevilles, when they feel the need for greater displacement.
Speaking of the never ending biker's lust for more cc's and Triumphs, have you seen the Triumph Rocket III?
This monster is the largest production motorcycle in the world, with three cylinders weighing in at 2300 ccs! Um... yeah. It's definitely impressive, though not for me. I mean I still feel quilty for lusting after the upcoming Piaggio MP3 500. IllNoise, over at
2Stroke Buzz
recently posted a
video on this bike
, that looks like it was produced by Monty Python for Triumph. I guess over the top British humor is the only way to promote over the top British engineering.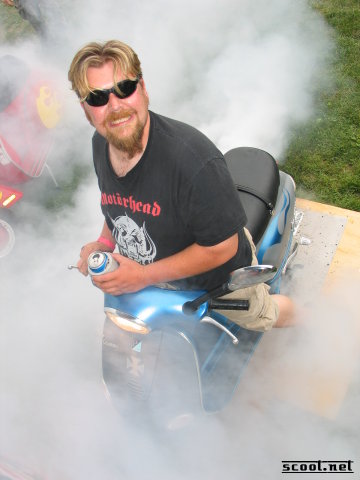 But the coolest thing, from this anachronistic countrified reptilian scooterist's perspective about this job, is that I work with the fine gentleman pictured above. I'd seen this picture on the BBS or on
Scoot.net
some time ago, never thought I'd meet this guy. He's Larry of the Checkered Demon S.C., and he's a scooter mechanic where I work.
Though we normally work in different buildings, one morning he comes into the wooden building and asks Jim, "What's the story with that crazy Woody Vespa in the back?"
After the obligatory exchange of info about scooters ridden and owned, I discover that Demon Larry is about as old-skool a scooterist as I've ever met. Heck,
his wedding to his lovely wife Sam
is listed as a rally in the gallery section of Scoot.net.
Anyway, Larry told me that Jes and I "just had" to go this party for the folks who organized the most recent
Gotham Rally
, that was coming up. Well, long story short, once we found out that there would be an open bar and go-go dancers, we reckoned it just might be worth the trip into mean old NYC, to meet some fellow scooterists in the area.
So after much studying of train schedules and subway charts, we ventured off into Babylon. Now some of you may be thinking that the Dragon, whose scientific name is Dragonis Rusticus, might have been like the country mouse venturing into city mouse territory. Well, I'll inform you if you didn't already know, I've lived on the streets of N'awlins as mohawked punk, wandered the projects of Lil' Rok back when it had the highest murder rate per capita in these here United States, and even eatin' dangerous looking patty-melts at Norms. Still despite living in some tough areas, having had a gun or two pointed in my face, and even sharing a one room apartment with not one, but two of the owners of Last Word Books, I will admit, I was a little intimidated by the thought of my first trip to NYC. And the Lower East Side, on top of that.
These hesitations vaporized once we got off of that last subway car and emerged on East Houston. 10 p.m. on a Saturday night in New York City. Neon, bustling people of more ethnicities than you ever thought existed, traffic like crazy, and taxi drivers illustrating that smallest quanta of empirically measurable time is the interval between the light changing and cabbie hitting the horn. That's right, baby, the night life ain't no good life, but it's MY LIFE.
After a few blocks of of extreme urban sensory overload, we reached our destination, the Parkside Lounge. The scene was just about what we expected, loud, cramped, and sweaty. Luckily Larry and Sam where right near the door, and so were easily found. We met a lot of cool folks, and I must say felt right at home with the NYC scooter scene, and Lower East Side bar scene. I guess hipster drunks really are the same, wherever you go.
I don't know how much of the party is really appropriate to report with these pixels, but as you can see above there were some loverly scoots in attendance.
I spent a lot of the night chatting with yet another fella named Larry, who was the sole Rocker in attendance. He showed up on this great 1973
Honda 350
, which he informed me was the highest selling cycle in the states, back in its day. He'd heard about the gathering on
NYCVINMOTO.com
, a site I'll be investigating in the coming days. We had a great conversation about smaller displacement motorcycles, scooters, and the principles of appropriate technology as they apply to personal transportation. Larry also happened to to be a Reed Alumnus, so we discussed West Coast liberal arts colleges (emphasis on the Liberal), and the classic Eastside vs. Westside conflict.
Of course, as all good things must, the night had to end eventually, and the bell started tolling as we neared the deadline to catch the last train to CT. Sam and Larry let us know that they could hook us up with a place to stay in the city, but Jes thought it best to head home. I was torn between the angel on one shoulder, advocating shooting a homeward azimuth, and a devil on the other whispering, "but there's free booze and go-go dancers here!" Luckily, the angel and my sweetie's wisdom won out over diabolical influences, and we hoofed it back to the subway.
So after all that, I will leave you with your notion of Zen for the day:
"If you meet Jack Kerouac on the road, kill him."