The
Make! blog
has enlisted Steampunk maker extraordinaire
Jake Von Slatt
to create a gift guide for that Steampunk on your list. As you might expect from a tinkerer of Herr Von Slatt's ingenuinity and refined taste, there are some real beauties on this list:
Tool box - Journeyman Tool Chest
Price:
$987.00
Buy:
Gerstner -
Link.
There is something about beautifully crafted hand tools that enhances your work. It's not just that they are of high quality, there's something about an heirloom tool that inspires you and allows you to exceed your normal skill level when you work with it.
Such tools need, nay, demand! a worthy case. Gerstner & Sons of Dayton Ohio have been making such cases since 1906. To put it simply; OMG, WANT!

Jes's folks got her a vintage example of just this type of toolchest for her birthday this year, and it is freaking amazing! Of course, hers needs some refinishing love, but that in itself is a project I'm sure she will enjoy. So if the new price gives you sticker shock, you should keep in mind that your favorite nefarious anachronistic mastermind just might enjoy restoring and customizing a slightly broken in specimen of the above, just as much as the chest itself...
But if you have the budget, here is another ready made steamy gift suggestion, I recently came across on
Retrothing
:
There are countless iPod docks on the market, but few are as carefully crafted as the Thodio iBox lineup from Amsterdam... Each case is handcrafted from 15 mm beech, oak, teak, zebrano or mahogany. They contain a 2 x 25 Watt solid state amplifier and a pair of Focal Polyglass 100CV1 full range speakers.
One thing that bothers me about many docking systems is that they tether you to the wall with an awkward AC adapter. Thankfully, the iBox does away with wires by incorporating a built-in rechargeable 15 hour battery pack that enables you to take the unit beyond the four walls of your home. You'll be the life of the party during power outages, too. There's even a 149 euro Bluetooth option for completely wireless operation.
Prices start at 359 euros for a painted MDF version and range up to 549 euros for a deluxe finish with 7 layers of scratch-proof gloss finish and UV protection.
And if you feel that the iBox's steamy retro yumminess is somewhat marred by sticking a very modern iPod into the docking slot, well get your favorite retrofuturist a steampunk iPod skin:
These beauties are available for all generations of iPod, and at $15 will certainly not break the bank. In fact just one of these by itself, could be the perfect steampunk stocking stuffer. The artist, Colin Thompson, also has some brassy, rusty, patina-encrusted
laptop skins
available for a variety of portable computing platforms:
This laptop skin is basically adhesive vinyl and might be used for customizing items other than laptops... for instance I'm thinking one of these might look good on my Steampunk Vespa's glovebox...
Now if your favorite retrofuturist is more of a NeoVictorian than an exposed gears and boilers type, you know emphasis on the STEAM instead of the PUNK, you might consider a
Kowal Portable kit
, which will transform their mundane laptop into something like this: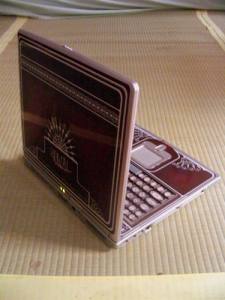 The kits run a little more than Colin Thompson designs, but are far more customizable, with the option to choose from a variety of woods and such.
Another great, inexpensive steampunk present was posted recently by Tinkergirl on
Brass Goggles
, a brassy, antique-looking webcam:
This unique cam might present a little more challenge to acquire, as
the site it is available on
seems to sell wholesale to importers. Still, they do offer pricing for sample quantities of 1 to 15 for less than $12...
Now all these commercially available products will be claimed by some to be watered-down Steampunk, a few steps away from the DIY tinkerer's ideal. If you have the ability, a handmade gift should always be appreciated, or you might try finding something with some steam potential and customizing it a bit before gifting it. Inexpensive welder's or army surplus goggles and some applied imagination could just provoke waves of delight. (Plus one simply never has enough goggles!)
Or if you can't swing that, you could take Jake Von Slatt's suggestion and search for
"steampunk"
on Etsy.com. All sorts of suitably steamy one-of-a-kind handmade items will instantly appear before you. Plus you will be supporting individual artists and craftspeople, rather than corporations, and that will display some steampunk savvy, indeed!
Finally, if money is no object and you are shopping for the Steampunk who has it all, there is the gift to end all gifts,
a hand crafted keyboard
by
Datamancer
:
Datamancer has produced several gorgeous variations on an
original design
by Jake Von Slatt. These are labor-intensive works of art by a master craftsman, and are priced accordingly ranging from $800 -$1000+. I doubt that Datamancer would be able to get you one by the 25th, as they are made to order with at least a
two-month wait
. Still, no steampunk worth their brass gears would be disappointed with the simple assurance that one was on the way...